What is GA4?
On October 2020, Google introduced its latest of version of Google Analytics aptly named Google Analytics 4 (GA4).
This new analytics platform is similar to Universal Analytics in that the data that it tracks but this how GA4 platforms reports and visualises these data will be slightly different. The main features that Google is reinforcing in its new platform are machine learning and data visualisation. GA4 incorporates more predictive analytics, insights alongside more visual graphs and charts to help digest data for the user.
Do I need To Switch or Start Using GA4?
Learning a new platform is not easy, especially if you are used to Google universal analytics. GA4 simplifies this to an extent with its dashboard and how you can access certain reports and data.
But do you need to switch or start getting used to Google Analytics 4? The answer is Yes. As of now, even if you don't plan on using it immediately, you should set up a GA4 property alongside your Universal Analytics so that GA4 can start collecting data and make use of its machine learning features. This in turn will help feed the engine with more insights and data.
From July 1st 2023, Universal analytics will officially be paused and all UA properties will to receiving data. Ideally, you should have a good buffer period where you have set up you GA4 property and have learnt to reasonably navigate the platform as Google will be making this change permanent.
GA4 Timeline & Key Considerations
Understand what's going to happen
Until July 1, 2023, you can continue to use and collect new data in your Universal Analytics properties.
After July 1, 2023, you'll be able to access your previously processed data in your Universal Analytics property for at least six months. We know your data is important to you, and we strongly encourage you to export your historical reports during this time.
If you haven't already created a new Google Analytics 4 property before early 2023, the Setup Assistant will create one for you. This new Google Analytics 4 property will have some of the same basic features, such as goals/conversions and Google Ads links, that you have in your corresponding Universal Analytics property. You will be able to opt out of this directly in the Setup Assistant or in the notification banner that will soon appear.
In the coming months, we'll provide a future date for when existing Universal Analytics properties will no longer be available. After this future date, you'll no longer be able to see your Universal Analytics reports in the Analytics interface or access your Universal Analytics data via the API.
The Pros & Cons of Google Analytics 4
Although GA4 introduces a lot of new smart features within the property there are perks and cons to the new platform. We've listed the core considerations when using GA4.
Google Analytics 4 Cons
No views
Limited IP address filtering
Missing reports that need to be set up manually
No recurring email reports
Google Analytics 4 Pros
Simplified data reporting
Report accessibility to users and the Google algorithm
Better tracking across website and apps
Codeless event tracking
AI-powered insights and predictions
Getting started with GA4
To get started with setting up a GA4 property follow the steps below.
Step 1: Log in to Google Analytics using the link below.
https://analytics.google.com/analytics/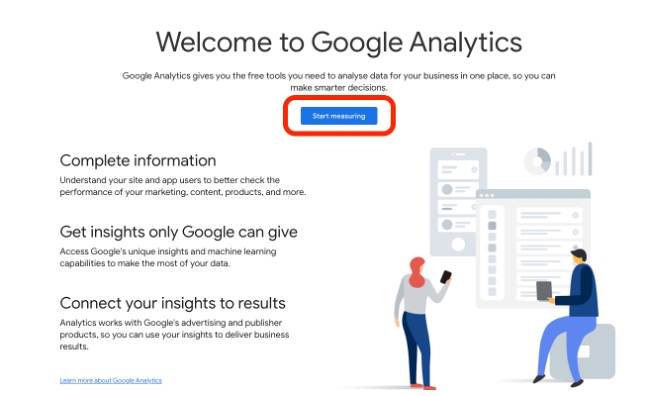 Step 2: If you are creating an account for the first time click the start measuring button. If you already have an account navigate to Admin > Property > Click the blue "Create Property" button.
Input a name for your GA4 Account i.e., the business name if you are creating one for the first time.
Step 3: Provide a property name alongside your reporting time zone and currency.
Step 4: Provide details about the business. This includes industry, category, business size and the purpose of the Google Analytics property.
After selecting all relevant options click 'Create'.
Step 5: You will then be redirected to a window, detailing Google's Data Processing Terms and Terms of Service Agreement. Review and accept the policies.
Step 6: You will then be directed to a screen aptly named Web Stream Details. This is where you can find your Measurement ID. At this stage you have successfully created a GA4 property!
Setting Up and Configuring Your GA4 Property Data Stream
The next step to complete is to set up and configure your first data stream.
A data stream is a data source from which events will be sent to your Google Analytics 4 property. You can have multiple data sources in a single property. For example, 1 website, 1 Android application and 1 iOS application.
The following section will highlight configuring a Website data stream.
To access your data stream, navigate to Admin > your GA4 property > Data Streams > Select web
On the next screen, you will set up your new data stream. In the Website URL field, you will put your website, and then for your stream name, I would make it something simple and descriptive that also includes the word "website" since this is the data stream for your website.
You will see a section for Enhanced measurement. GA4 is based on events, and this option allows GA4 to automatically track and measure common events like page views, scrolls, outbound clicks, site search, video engagement, and file downloads.

If you want, you can disable/enable events individually. You can do that by clicking the gear icon in the Enhanced Measurement section and then clicking the toggle buttons.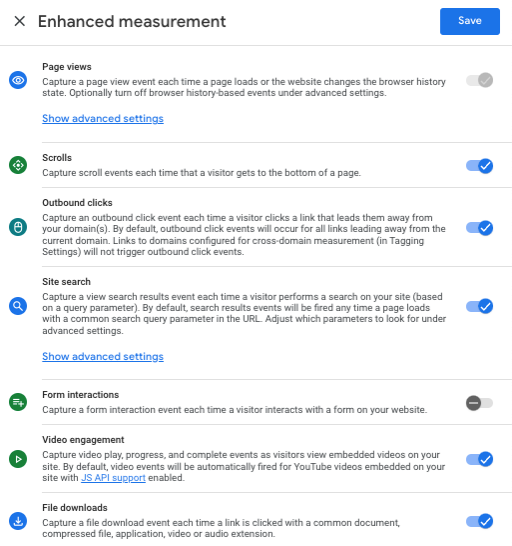 When you're ready, press the Create stream button.
That's it! You have not only completed setting up a GA4 property within Google analytics but also have your first data stream is configured and set up for enhanced measurement.
The only challenge from here is to add GA4 to your website but that is a different topic altogether and requires its own guide so be sure to keep a lookout for our eventual post!
Conclusion
An analytics tool is one of your most powerful marketing weapons. It helps develop an understanding of website traffic and how users behave once on site.
GA4 is the analytics upgrade we all needed. It provides marketers with more flexibility and a means to predict user behaviour while upholding user privacy. Once you get through the learning curve, you'll find GA4's flexibility and enhanced insights are more than worth it.
If you're struggling with setting up GA4 for your business or would like to know more on what this platform has to offer – we'd love to offer you a complimentary 30-minute introductory call via Zoom.