Marketing is simply the process a company uses to communicate with its customers and in this case the process of communication is email. We are going to explain some upcoming Ecommerce Email Marketing trends to help you prepare your business for the year ahead.
It might surprise you to learn that email is the customer's most preferred form of marketing – 49% of customers say they are happy to receive promotional emails from their favourite brands on a weekly basis (Statista 2017).
Probably because email is one of the most transparent forms of marketing and transparency matters to customers. Transparency suggests honesty and honesty creates trust.
Are you already onboard with email marketing? Or have not yet found it to be successful? Hopefully, this blog on Ecommerce Email Marketing Trends will set out the benefits of an email marketing campaign, help you prepare for upcoming trends to develop a strategy for more effective promotion. We have enlisted the help of our resident email expert, Carly Warke, to explain some of the trends taking shape, as well as the benefits and key features of email marketing.
In Ecommerce Email Marketing Trends we will look at:
The Effectiveness of Email Marketing
Anyone can benefit from an email marketing campaign. According to Emarsys, 81% of SMEs worldwide say that email is the main driver of customer acquisition and 80% say it's the main driver of customer retention.
Carly says: "Email is the ideal channel to utilise for any and all businesses."
And she tells us why:
"Email marketing is an effective solution that gives you the power to reach your subscribers in a place most people visit every day – their inbox.
"It has a huge ROI (return on investment), about £36 in for every £1 spent.
"It's cheap, it's easy and fast to set-up and use, you can be highly targeted and provide your subscribers with helpful content directly into their inbox.
"With its vast wealth of analytics, you can learn from your campaigns and rinse and repeat what works. If you're not using email as a part of your marketing strategy in 2022, you seriously need to reconsider and get started today."
Global email usage is around 4.3 billion, that is more than half the world's population using email. That's set to rise to 4.6bn by 2025. Around 333.2bn emails are sent and received daily (Statista).
While 99% of users check their email inbox daily – some checking 20 times a day.
Some more stats to consider:
Delivers your message into your prospect's personal inbox (90% of email gets delivered into inbox, whereas only 2% of your FB followers see your posts)
Email drives conversions (4.24% of visitors from email marketing buy something vs 2.49% from search engines and 0.59% from social)
Welcome emails have a 82% open rate
Ecommerce Email Marketing Trends for 2022 and Beyond
In this section we are going to shift our focus to the main Ecommerce Email Marketing Trends and what to consider when building your email marketing campaign.
Personalised emails
Personalised emails generate 50% higher open rates. You can personalise your emails by simply addressing your customer by name. Use their sign-up information, name, address and date of birth to communicate with them on a more individual level ie, special birthday discount. Abandoned cart emails also remind a specific customer that they have left something in their basket – results in 69% more orders.
Attention seekers
Expect to see and increased focus on content and design – gone is the era of emails with unwanted elements and unnecessary content.
Your email is one of many hitting your subscriber's inboxes on a daily basis. Marketers have recognised this and are now streamlining the content within.
To encourage your subscriber to open your email, ensure your 'envelope' – that is your subject line and preview text – is as engaging as possible. Once the email has been opened you have only a second or two to grab the recipient's attention and hopefully get them to complete whatever action you want them to take.
so, pique their curiosity, put a question or an exclamation in your subject line or try using unexpected or quirky phrasing: "Have you ever wondered…? Last chance to apply… Hey, it's your lucky day…" or "Confession: I watched Harry Potter 1-4 this weekend" (a genuine subject line btw).
Digital Marketing Consultant Carly Warke says design is another key factor here: "Try to make sure your emails are aesthetically pleasing, eg, showcasing your products or services with beautiful photograph, loads of white space, etc. Some B2B businesses are also trialling plain text emails – test both and see what works best for your business. Keep reams of text to a minimum and try to include only one core CTA (call to action)."
Interactive content
Another great way of grabbing your subscriber's attention is with interactive content such as videos, gifs and collapsible menus. Interactive emails can increase click rates by 300% (Martech Advisors 2017).
Segmented campaign
For years marketers have valued segmentation over mass marketing. There is contradictory evidence for its effectiveness. Harvard Business Review recently tested the accuracy of digital profiles sold by data brokers and concluded that gender was only properly identified in less than half the cases and that age tiers were only right 23% of the time.
And yet, according to Hubspot, marketers who use a segmented campaign claim that they have seen as much as 760% rise in revenue as a result. Hubspot also says that 20% of retail, e-commerce, and consumer goods and services companies are personalising emails based on gender, race and ethnicity. Although that's not a massive amount. When marketers talk about segmentation they may mean 'microsegmentation and we can expect to see a lot more of this in 2022 and beyond and in some ways it's another form of personalisation. Carly says: "Email marketers will need to dive deep into their customer's behaviour data, their preferences, location, personality, etc, and create personalised communications that will really sing to individuals.
"Try to gather as much data during the opt-in stage, such as on your forms, etc. You can also tag contacts according to their individual preferences, or particular interests, etc. You can also send a survey once a quarter to keep yourself updated on the changing needs and preferences of your audiences."
Mobile responsive emails
What is a mobile-responsive email? Basically, an email that looks and works as well on your phone, tablet etc, as it does on your desktop. And you don't even need any special skills to do this. If you're using an email automation tool such as Mailchimp then it will be done for. But just in case, images should be 600px wide. You can also use the email builders provided within these tools to create beautiful messages optimised for both mobile and desktop.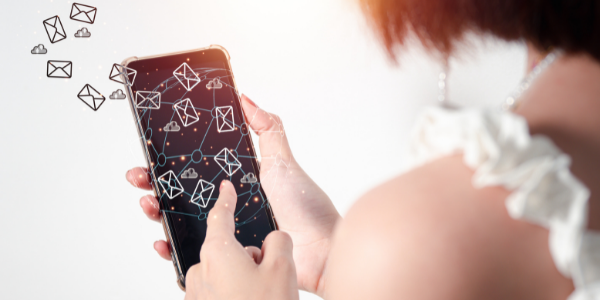 So before you ask: "Do I need to make my emails mobile-responsive?", let us lay down some facts.
59% of Millennials primarily use their smartphone to check email
67% of Generation Z scans their inbox on mobile. (Bluecore, 2021)
Nearly 55% of global website traffic is generated from mobile devices, excluding tablets. (Statista, 2021).
A growing majority of emails are opened from mobile devices – recent figures put it around 60%.
However, around 1 in 5 campaigns is not optimised for mobile
And according to Mailchimp, one of the largest email automation providers, an email that is designed to be mobile responsive can increase mobile clicks by 15%.
So in case, we weren't clear, yes, you should ensure your emails are mobile-responsive.
And while we have suggested including gifs and interactive content etc, make sure this doesn't slow down the load times. Images should be less than 100kb. Use short subject lines – 40 characters max. And no tiny font sizes – 12pt+.
Clearly defined CTA
CTA is a call to action in the form of a button or clickable link on your email. It can encourage your contact/customer/subscriber to sign up/visit website/receive special offer/take the quiz. It should be highlighted within the email usually text on a contrastingly coloured box. Make sure to include one in every mail, even if it's just 'visit our store'. But only include one, too many can be overwhelming and confusing. You don't want customers clicking on 'visit website' if they had meant to click on 'get 10% off and then getting angry that they didn't get that special offer. An unhappy customer mightn't be a customer for very long.
No more open-rate metrics
If you rely on email Open Rates as a key performance indicator (KPI) for your campaigns then think again. Apple's release of iOS15 contained a new feature to protect Apple users' data from third-party apps. According to Apple, this new feature, "helps users prevent senders from knowing when they open an email, and masks their IP address so it can't be linked to other online activity or used to determine their location."
Carly's advice is: "If you rely on open rate as a key metric, try to look for an alternative KPI to track engagement, such as click-through-rate, or revenue."
Drip vs nurturing emails
What is the difference between drip emails and nurturing emails?
The answer is as it sounds.
Drip marketing – scheduled emails sent at regular intervals regardless of recipient interaction, unless they opt out.
Nuturing emails – are based on leads and contacts' behaviour. They are sent in response to a trigger such as a clicked link, pages visited, forms filled out, webinar attended or abandoned cart.
Nurturing leads make 47% larger purchases than non-nurturing leads.
But don't dismiss 'drip' emails entirely. Start your campaign with drip and build to a nurturing one when you understand more about your buyer's journey.
Now that you know what's ahead of you in terms of email marketing trends, we will look at what steps you should take before building your campaign.
Things to Consider when Building an Email Marketing Campaign
So you've set up a new company or launched a new product and you can't wait to tell people about it. You're excited, it's understandable but before you start firing out random emails to your contacts just take a moment and breathe… That's better. And now – plan your strategy.
A strategy can involve many elements but there are some core elements that should always be considered:
Find out who your audience is and build a contacts list
The most important thing to start with, is to have an email list full of qualified subscribers, who are interested in your offering. If you don't have a list yet, or you have a very small list, you will want to start building that list ASAP.
Carly says: "A good place to start is on your website. Try to ensure your website is as 'sticky' as possible, eg, by having plenty of CTAs that encourage sign-ups such as a form or pop-up with an incentive like '10% off if you sign-up for our newsletter'. Try to gather as much data as possible when getting sign-ups, such as first/last name, email, birthday, interests, etc. This data will help you later when sending more relevant, personalised emails."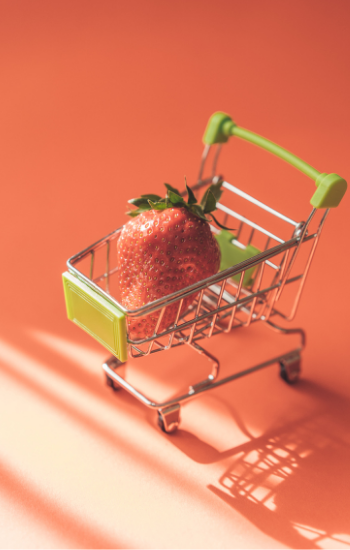 Then set your goals
Understand the objective of your email, ie, what do you want to achieve. Some example goals could be:
Welcoming new subscribers: You may want to introduce them to your business, include your USPs, maybe an incentive. Try to build a relationship with your subscribers early on so they know you value them and what they have to say. Did you know that 82% of welcome emails get opened?
Abandoned cart: These emails are great for winning back subscribers who added an item to their cart but didn't check out.
Driving website traffic: Perhaps you've written a blog, or you have new products on your site; an email is the perfect way to let your subscribers know, and drive website traffic. Just make sure the offering is of value to your subscribers.
Nurturing your subscribers: Perhaps your lead has signed up to your emails, but you want to try and nurture them through the funnel; an email sequence is the perfect way to do this. Try to create an engaging lead-nurturing sequence via email with TOF/MOF/BOF content.
Content Calendars and staff
The third most important thing is to plan your email marketing in advance. Sit down at the start of every month and plan ahead with an email marketing calendar. This way you can be sure your emails tie in with any planned promotions. And you can space your emails out so you're not spamming your list with multiple emails in a short timeframe. You can also use a content calendar to help with the fourth suggestion.
Did you know Fridays have the highest email open rates?
Review
Use your KPIs to help you figure out who is clicking through on your emails, or purchasing and what it is that they're buying, how often and when. This will help you plan campaigns going forward. And appoint someone to look after this. It will be more fluid if particular staff members have the responsibility for this.
Use an automation tool
And to really make the most out of the power of email we recommend using an automation tool such as Mailchimp, although there are others available such as:
ConvertKit
ConstantContact
AutoMizy
Sendinblue
MailerLite
Hubspot.
Email marketing software can be used for many different purposes.
According to Carly: "It provides a central hub for all your marketing data. There is a wealth of different templates that you can customise; you can segment your data to send more targeted, relevant emails; you can also use the email builders provided within these tools to create beautiful emails that are optimised for both mobile and desktop.
"Not only that, but email marketing tools such as Mailchimp have a wealth of analytics that you want use to analyse your emails and learn from."
Why Mailchimp?
Here at DPL, we use Mailchimp for our own needs, as well as for our clients. There are many reasons as to why we love Mailchimp, but here are our top three:
Usability – Mailchimp is incredibly easy to use. It's been designed for small businesses who are potentially non-technical. For this reason, it's incredibly easy to send out professional-looking emails in a matter of minutes, without needing a marketing or design degree.
It offers a 'Forever Free' plan – which is perfect for new businesses or those just starting to use email marketing. Those on the 'Forever Free' plan can have up to 2,000 contacts, and have a monthly send limit of 10,000 emails per month. Some features, such as email scheduling aren't included in this plan. However, it's easy to upgrade to the 'Essentials' plan if you want to.
Integrations – Mailchimp integrates with most of the top website platforms, such as Shopify, WooCommerce and Magento. This means that your website data will get pulled directly into Mailchimp without you have to constantly import new contacts. If you integrate your website with Mailchimp you also will get stats on how much revenue your emails are generating – powerful data for you to understand how valuable email marketing is to your business.
As a certified Mailchimp partner we are highly trained in Mailchimp, and we use Mailchimp for many of our clients and their email marketing.
As we've said email marketing can work for any business. It's just a matter of finding the right way to make it work for yours. Hopefully, our blog on Ecommerce Email Marketing Trends will have given you enough information so that you can confidently integrate email into your promotional mix.