Taking your vulnerable business online can feel like a journey into uncharted waters but our report into ecommerce trends 2022 for small businesses will help you understand what lies ahead. You may already feel like you're drowning in digital jargon, and just when you thought it was safe to go back in the water… a new ecommerce trend rears its head.
We have identified the following 7 trends to be aware of
Personalisation and Data
Some ecommerce trends 2022 could pose a massive headache for some marketers. We will see trends shift from 'personalisation' to 'personalised experience'.
What's the difference? Well, personalisation isn't always 'personal'.
It involves taking what you know about a person and their digital behaviour through analytics. Then, combining them to work out how to give them what they want in a way that meets your business goals.
This often depends heavily on audience segmentation – that is, filing people into subgroups based on age, gender, location, ethnicity etc. How well you do this depends greatly on the accuracy of your data and your data collection process.
Harvard Business Review tested the accuracy of digital profiles sold by data brokers and here's what it found: The age tier was only right 23% of the time and gender was properly identified in less than half of cases. It also discovered: 41% of brands plan to invest more in paid and organic search this year.
Why? Because they want it done right. And when done right it can still work for you.
Privacy
Third-party cookies
Google, which represents more than 60% of search engine market share, announced in July 2021 that it will delay third-party cookie blocking until late 2023. But it's coming, so eCommerce businesses should spend this year preparing.
Privacy laws
According to The Future of Ecommerce report by Shopify at least 28% of technology decision-makers around the world expect changes to customer data and privacy regulations to hinder their 2022 growth goals. Audiences, and particularly younger users, are getting increasingly cautious about how much information they share online.
The Shopify report reveals, that in order to mitigate the tightening of privacy laws, brands are turning to first-party data to fill the gap. This is the data a brand collects directly from their customer, with their customer's consent.
Because the best way to get to know your customers is to ask them and listen to what they say, and that is the difference between 'personalisation' and 'personalised experience'. Your customers want to trust you. Personalisation might drive customers to your website initially, but personal selling is about keeping them there and encouraging them to come back.
Customer behaviours shaping ecommerce trends 2022
Most experts agree that the biggest challenge facing small ecommerce businesses is changing customer behaviour. But this also creates opportunities.
Since 2019 we've seen an exponential rise in online transactions. A PwC report, tracking the past 18 months has revealed a huge conversion to digital.
According to Rob Cameron (CEO of Barclaycard) the UK experienced "seven years of online growth in seven weeks".
Practical difficulties – a combined result of Brexit, tech supply issues, supplies delayed by the wedged Evergreen cargo ship in the Suez Canal, and perhaps most significantly, the Covid pandemic – have forced customers and merchants to "revaluate how they want to live, work and shop in the future," says Rae Ritchie in The Guardian.
And while these difficulties should be temporary the knock-on effect for ecommerce isn't.
Consumers and retailers, who were unwilling to make the digital conversion, have been forced by supply issues to embrace ecommerce. These changes, say Mr Cameron, have "lasted long enough to permanently change behaviour".
Brands that resonate
Amazon might rank top of the Fortune 500 but long gone are the days when digital customers just want cheap products delivered immediately.
Jeff Bezos' online retail giant now faces competition from smaller ecommerce growth platforms such as Shopify and Etsy etc, where customers can find smaller niche retailers in their area or worldwide.
The increase in digital traffic has mirrored the growth of the ethically-conscious shopper. These consumers want to spend their money with online retailers who share their values, be they environmental, human rights, fair trade or animal welfare.
A recent MIT report into the State of Supply Chain Sustainability revealed a trend among businesses in the retail, manufacturing and logistics sectors in abandoning sustainability policies, as they focus on getting back to pre-pandemic levels. But the MIT report warns that pressure is increasing from lobby groups, governments and consumers. So, if businesses want to survive, they need to start thinking about the wider impact of their supply chain.
Spending habits
There will always be stuff we want here and now and that's great for Amazon, but when it comes to gift-giving it seems shoppers are a bit more prepared.
According to GWI (audience insight provider) 29% of UK gift-givers will start spending for Christmas a month in advance. Supply concerns were heeded by most shoppers this year who spread their spending. The result has been the widening of the golden quarter – that period ahead of Christmas when transactions are at their highest.
The takeaway for retailers is they need to be better prepared to navigate this prolonged peak in demand.
Payment Options
Of course, all these digitally savvy customers expect frictionless transactions. And those who are not able to respond will risk losing half their customers.
2020 report by Barclaycard Business found, 58% of UK consumers will abandon a purchase if the online checkout process is complicated. It also reported, 44% will not complete their online transaction if they are not able to use their preferred payment method.
And this year we will see a marked rise in the payment options being offered by online businesses as an increase in the cost of living puts pressure on household finances.
According to the 2022 Commerce and Payment Trends report by Globalpayments.com, 53% of merchants plan to expand payment methods in 2022. The report also found:

60% will add digital wallets – A digital wallet is a digital version of your physical wallet/purse. It holds all your credit/debit cards, bank info, cryptocurrency and loyalty cards etc in one place
60% will take QR codes
51% will start accepting digital invoicing – Digital invoicing can improve cashflow. It is expected to grow at a compound annual growth rate of 20.4 % until 2029
65% of merchants plan to add buy now pay later options such as Klarna as a payment method
44% of GenZ shoppers say they will use BNPL in 2022
The Fiscal Squeeze
Regardless of ecommerce trends towards sustainability the fact remains that there is just less money going round. Inflation rates hit a 30-year high of 5.5% in January 2022 and are expected to rise to 7.5% by April. And that was before the price of Brent Crude Oil rose above US$100 a barrel as war loomed in eastern Europe.
Wage levels are just not meeting the costs of living, and to put it bluntly, consumers might not be able to afford to put ethics ahead of their budget.
For those who aren't prepared to compromise on their values they might prefer to tighten their belts by buying fewer luxury items. It's not a given but it's something you might want to prepare for. Especially since the costs of customer acquisition are rising.
So what can be done to mitigate this?
Hold on tight to the customers you have by investing more in the customer experience and build a community. Brand building and trust are key to steer your way through ecommerce trends 2022.
As the world has moved online and as commerce has had its second renaissance, the side effect is that customer acquisition costs have risen to enormous levels. The clear solution for brands is to increase their repeat rates and increase customer lifetime value.

Carl Rivera
VP of Shop, Shopify
Those who have money to spend will want to be confident they're spending it with the right business. So be open and honest with your customers and maintain lines of communication.
Omnichannel
Many high street retailers utilised omnichannel during the lockdown to improve their customers' experience. Omnichannel is just another way of saying that your instore offering should complement your online business and vice versa. An effective omnichannel plan will help your business thrive amid long periods of disruption.
Creating a seamless experience between your high street store and online is a must. Ecommerce isn't just about selling online – traditionally it's for growth but more importantly it's about enhancing the customer journey. So don't shut up your high street shop just yet.
Omnichannel means you can offer your customers options such as instore collections and returns. Your physical shop might be where you're comfortable but by adding online tools such as AI and chatbots you can create transparency and build customer trust.
There are simple ways of doing this too. During lockdown, some small businesses set up Zoom appointments with customers, who couldn't visit their premises but were in need of advice or support.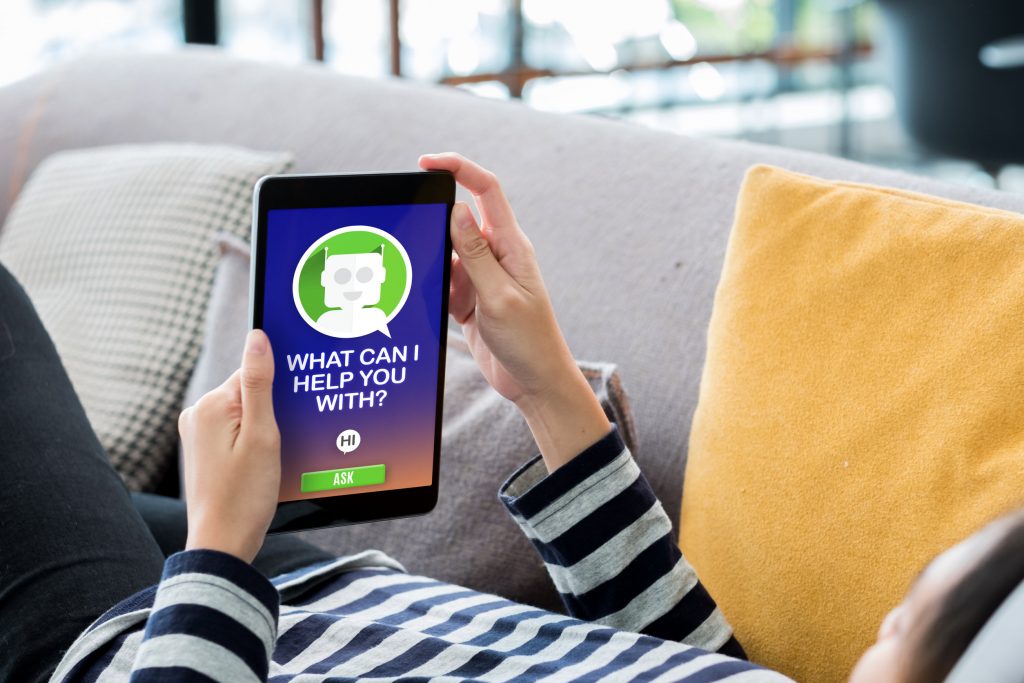 AI
Artificial Intelligence is a critical ecommerce trend 2022 and can be an effective way to make the most of shifting consumer behaviours: You can predict the behaviours of potential customers; you can also keep track of what your customers think by opening the lines of communication through chatbots.
AI can also be used to track deliveries, stock and shipped orders. Trust will be the byword of ecommerce trends 2022. You want your customers to feel confident that you can deliver on time.
Supply, demand and skills shortage
Shortages will continue to define 2022, say the experts. Be prepared. Don't just have a plan B, but also plans C and D. Source other suppliers in case regular supply chains fail and budget for added costs. Above all, be honest with your customers and delivery times. Don't ignore their queries.
Also, take note, there is a digital skills shortage. If you plan to bring on board in-house digital marketing specialists you might struggle to get the personnel.
UX Design
Everything comes back to creating a good User Experience for your customer. The biggest trends for 2022 in terms of design focus mainly on making the online experience more pleasant and hassle-free.
You can do these one of the 8 ways listed below:
Storytelling
Experimentation in Navigation Placement
Seamless Experience
Voice-user interface
Creative Scrolling Experiences
Emotive Interaction Design
Data Visualisation
Conclusion
The eCommerce landscape is changing quickly and is fuelled by technological advances and shifting customer expectations. Understanding your customers and leveraging technology to add value to in your relationships with them will help you build a competitive and sustainable business.